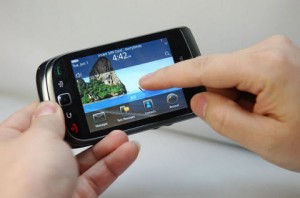 RIM stock rises as much as 4.5%
Shares of Research In Motion jumped on Wednesday on speculation it would unveil a new touchscreen BlackBerry that could compete more effectively with Apple Inc's iPhone and other smartphones.
RIM is expected to announce the launch of the BlackBerry 9800 at a joint event with AT&T Inc in New York next Tuesday. AT&T is expected to get exclusive U.S. rights to sell the new device.
Industry watchers say the 9800 will boast a new operating system, a revamped web browser and full slide-out keyboard — features designed to revitalize a product lineup that critics say looks out of date.
A smooth launch is critical for RIM, analysts say. Its stock has fallen by a third in the past year as the iPhone and devices running on Google Android software eat into its share of the key North American market.
For RIM, the timing of the event seems fortunate. Apple has taken a rare misstep with the launch of the new iPhone 4, with complaints about the model's antenna design putting the company on the defensive. That may allow the 9800 to steal the spotlight, however briefly.
"This is an opportunity for RIM to respond, not only on the operating system and browser-side, but equally importantly, that they have a nice smooth operating piece of hardware," Mackie Research analyst Nick Agostino said.
The 9800 is viewed as RIM's bid to finally silence its own critics, who have complained about a clunky web browser, a humdrum applications store and a product lineup that's missing a compelling touchscreen device.
RIM's overseas sales have grown steadily, but gains have largely come from sales of low-end devices that have weighed on the company's average selling price. RIM is also facing more competition within its once-secure business enterprise segment, as some companies are allowing employees to swap BlackBerry devices for other smartphones.
Rumor has it we can expect to see the Blackberry 9800 in Mid August.
Source: Reuters